The results of the KV TimeTrial are available and can be found below:
Below there is also a cool story of one of the competitors and his experience:
I was finally persuaded in the KV time trial and a week before the event I decided to start preparing for it. Knowing that one of the most important factors in a time trial is power to CdA (Coefficient of Drag). Since power would not magically rise, I thought I might drop; drop in position. I never thought I should take it seriously enough to find or hire a TT bike, but maybe I could try some snap-on aero bars. As I did not have any and not many people that I knew had any I could borrow, I thought "What contraption could I make at home?".
From my early racing days, I had a TT handlebar set that was dedicated for the 500m sprint national record attempt for which to improve acceleration was very slim only at 30cm. Luckily that was just perfect sizing to befit a complete race bike handlebar. It took some time from the concept to reality, as the latest bikes chase all marginal gains and implement all integrated systems. Finally, I was able to find a Giant defy with the early semi-hydraulic disc brakes with a somewhat normal stem to attach it to. Somewhat normal is an understatement as the cover of the face of the stem doubled as the master cylinder for the hydraulics.  After tinkering with stem sizes and geometries I managed to create the "Frankenbike '. It used two stems one on top of each other, one for the standard handlebars gears and brakes, the second for the TT handlebars.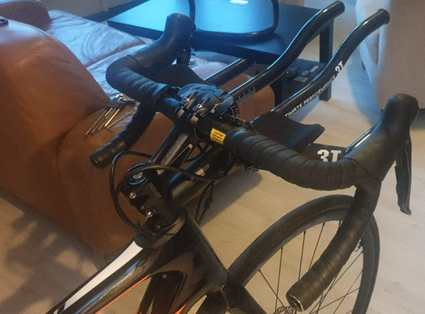 Once the bike was finally alive, it was time for testing and brief approval by the committee. 150km later all tests passed with only minor position adjustments. Soon it was time for the event and no sooner I realized people took it a bit more seriously than I did, many TT bikes, with great equipment and significant competition. The time trial went smoothly but had a few complications in the beginning and everything was well organized. It also went smoothly for me and the bike with a respectable but in no ways impressive pace. Overall, a successful monster creation, time trial participation, and event organization.